December 17th 2016
Heavenly rides to a town called Hell. Which would you rather ride?
By Brian Catterson Courtesy of CycleWorld
There's been a lot of talk about "bug-out bikes" lately—as in which is the perfect motorcycle to escape a natural (or unnatural) disaster. Earthquake? Tsunami? Political upheaval? Get on your go-anywhere adventure-tourer and leave it all behind.
Which is all well and fine should your world go to hell, but what if you're actually going to Hell? You don't want to roll up on Beelzebub astride some oversize orange dirt bike. No, you need a motorcycle that makes the proper statement. And nothing speaks louder than a badass big-inch V-twin. That's where the Harley-Davidson Road Glide Ultra and IndianRoadmaster come in.
Okay, so maybe a murdered-out bobber would be more sinister-looking than a colorful full dresser, but it's tough to find a black bike by torchlight, and you're going to need luggage to take it all with you. Especially if it's a one-way trip.
Slab City, on the fringes of the Dead, er, Salton Sea in the southeast corner of California, offers the nearest thing to a dystopian society in these United States.
We had these two touring cruisers to compare and three days to get it done. It just so happened that Monday was Halloween, which meant Tuesday was All Saints' Day and Wednesday was All Souls' Day. Are you sensing a theme here? Add to this the fact that the Cubs finally won the World Series and surely The End was nigh.
So we plotted a course to Hell on Earth. Slab City, on the fringes of the Dead, er, Salton Sea in the southeast corner of California, offers the nearest thing to a dystopian society in these United States. Think Thunderdome without Tina Turner. Featured in the film Into the Wild, the place is a former military base that has devolved into a refuge for artists, students, and others who want to live way off the grid. They wouldn't know what to make of our motorcycles…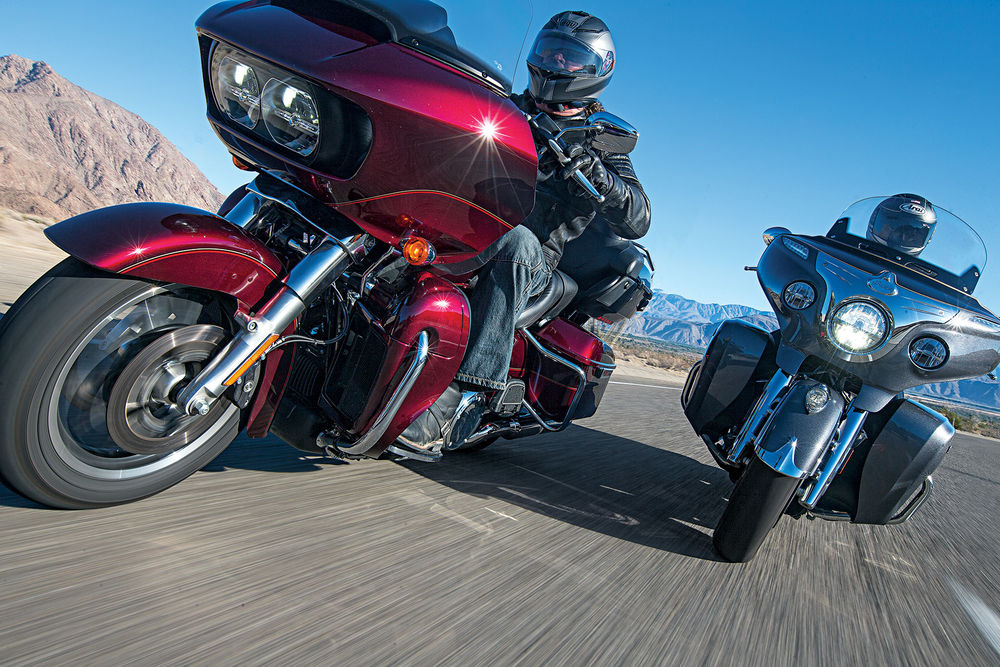 Comin' for you! Indian's designers definitely took a good, long look at Harley's touring lineup before picking up their pencils. But the Roadmaster is more reminiscent of an Electra Glide than a Road Glide.
Detractors like to say that Harley-Davidsons haven't changed in a century, and that's only partly true. While the classic 45-degree V-twin architecture originated on the 1936 Knucklehead, it has been continually refined. This latest version, called the Milwaukee-Eight, is equipped with a fuel-injected, twin-cooled (meaning oil and water), four-valve-per-cylinder engine that could almost be called modern. Holdovers include pushrod valve actuation with forked rockers and hydraulic lash adjustment, plus a non-unit six-speed gearbox. Even so, power is markedly improved from the previous generation, the 107ci (1,750cc) mill pumping out a credible 77 hp and 98 pound-feet of torque on the cursed CW dyno. That's a far cry from the 50-ish horsepower Big Twins made not too terribly long ago.
Indian is a relative newcomer to the scene, never mind that the original company succumbed to financial pressures in 1950. Forget about everything that transpired between then and now because it was inconsequential—an S&S-powered Harley clone with valanced, art deco fenders does not an Indian make! To its credit, new parent company Polaris didn't base the new Indian line on its existing Victory platform, instead designing an all-new 49-degree Thunder Stroke V-twin (albeit with old-fashioned air-cooling and two pushrod-actuated valves per cylinder) that pays homage to the original Power Plus. That 111ci (1,811cc) mill is no slouch, either, putting out 73 hp and 103 pound-feet of torque.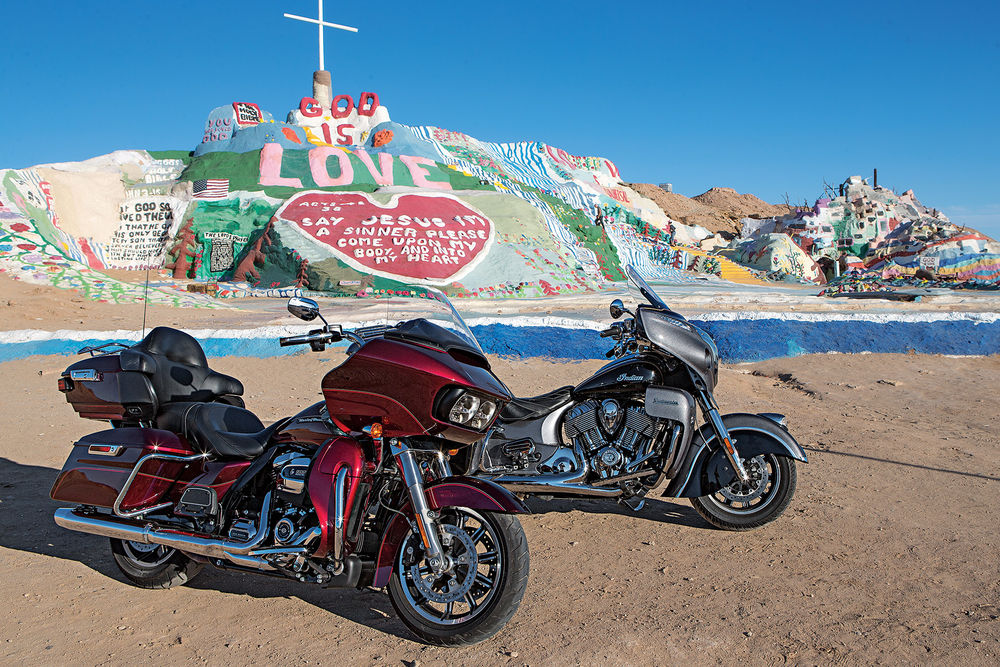 Technically these two models are not an exact match because the Road Glide has a frame-mounted fairing while the Roadmaster's bolts to its fork. The Ultra Limited would have been a better match; alas none was available. Aside from that one difference, however, these two machines are almost identically equipped. The Harley's shark-nose fairing looks more modern than the Indian's, which is said to have been influenced by streamliner locomotives of the 1950s. But the Indian looks more modern behind its fairing, as its multi-function touchscreen dash features multiple windows and is customizable. The Harley's dash isn't exactly low-tech, but it is a half step behind. The Indian scores bonus points for its heated seat and handgrips, keyless igni­tion, and remote trunk lock, but it also costs more. These options are available on H-D tourers, and prices for similarly equipped bikes are…similar.
Our descent into Hell began on a fitting note as we puzzled over how to reset the Indian's tripmeter; we were 25 miles down the road before we noticed the little red icon at the upper edge of the touchscreen. And this delay, coupled with a range reading that inexplicably switches to "Low" when you most need to know exactly how many miles you have remaining, resulted in our running out of gas at the edge of nowhere. Ordinarily we would feel comfortable speculating that the Roadmaster might go 200 miles between fill-ups, but we now know that it goes exactly 196.6 miles. The most we saw out of the Harley was 213.6 miles, in normal commuting.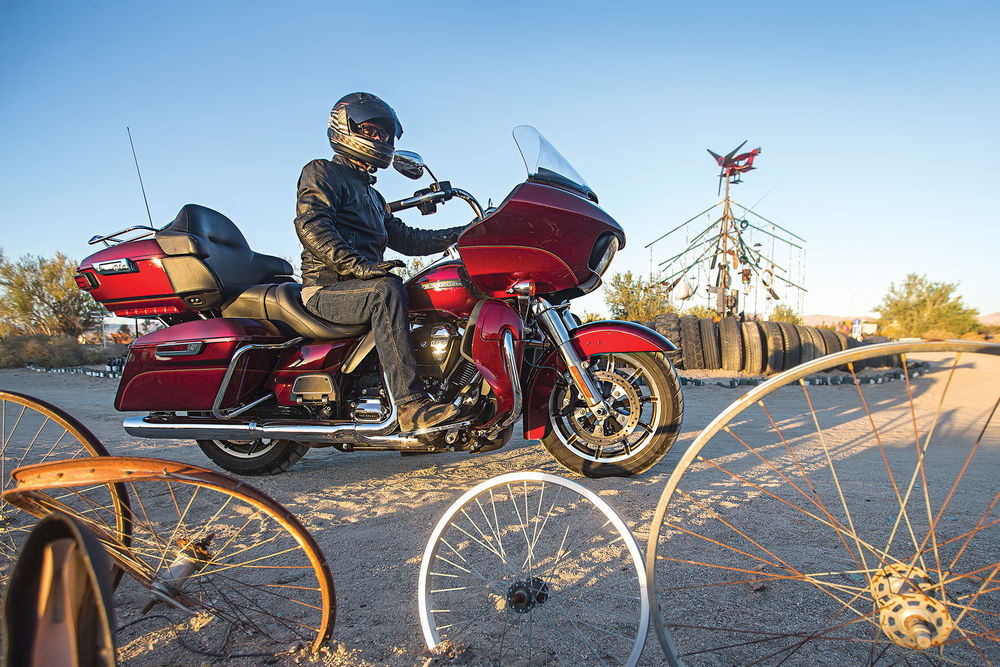 To explore these two tourers' back-road capabilities, we took SR 78 over the Cuyamaca Mountains through heavenly Julian and down to the hellish Imperial Valley. Both bikes worked very well considering their near-half-ton heft; the Indian is 14 pounds heavier according to the CW scales, but in this class that's like having slightly bigger love handles. H-D's engineers did away with the traditional air-adjustable shocks this year (because they found that owners seldom checked the pressure) and substituted a simple adjustment knob behind the left saddlebag. The Indian continues to use air-adjustable rear suspension and includes a small hand pump with purchase; pop off the left side cover and you'll find a Schrader valve and a chart with recommended settings.
Chasing the Tail of the Dragon, we found the Harley to have greater cornering clearance before its floorboards touched down but the Indian to have more neutral steering, thanks in part to its lower, wider handlebar. The Harley's chassis felt very planted—credit its standard steering damper and dual-compound Dunlop tires—but required constant bar pressure to hold a line. Some years ago, a lead tester with Harley said it tunes the chassis to require a bit of pressure on the inside bar, so this is likely a philosophical difference between makers. The ABS-equipped brakes on both bikes are impressively up to the task at hand; the Road Glide's are linked front to back whereas the Roadmaster's are separate.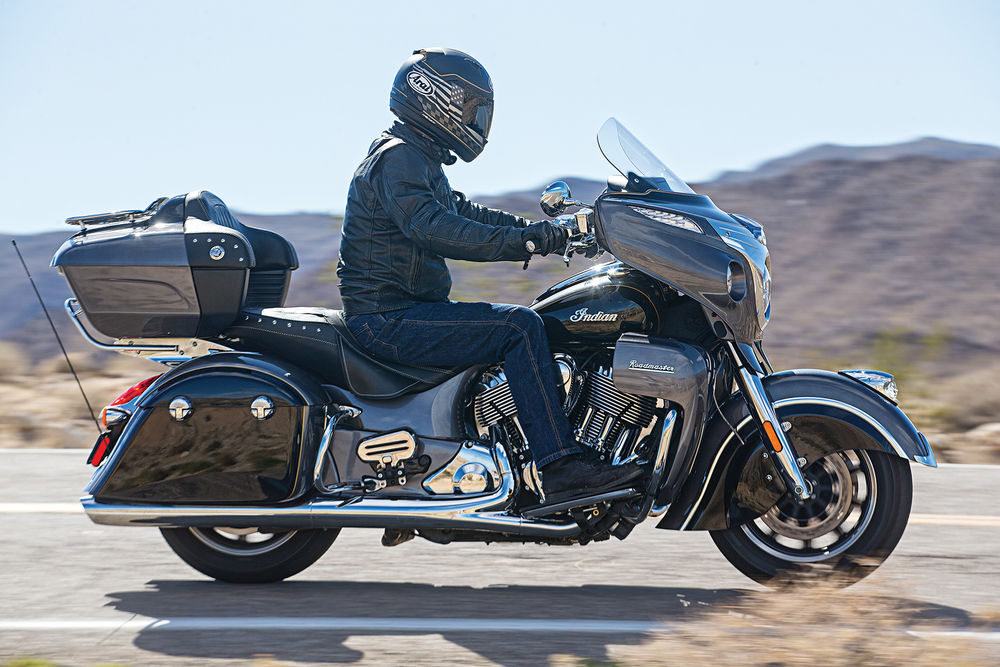 In the desert near Ocotillo, we hopped on Interstate 8 East toward El Centro and our final destination. Impromptu roll-ons in both fourth and sixth gears confirmed that these two big V-twins are very evenly matched. The Indian's greater low-end torque gave it the initial jump until it rolled over at 4,000 rpm, at which point the higher-revving Harley stretched its legs and pulled slightly ahead. Speaking of gears, it's worth noting that the Harley's new, hydraulically actuated Assist and Slip clutch (which enabled engineers to reduce the plate count and narrow the primary cover) has a heavy pull and a narrow range of engagement that makes for jerky starts. Curiously, the Harley's gear display disappears if you so much as finger the clutch lever while the Indian's takes a moment to update after each shift.
Nothing reveals flaws in aerodynamics and comfort like droning on the freeway, and both of these touring cruisers proved commendably comfortable. The Indian gets better marks for wind protection because its windshield is electrically height-adjustable over a 4-inch range while the Harley's screen is fixed and prone to buffeting the rider's helmet (it's better with the fairing vents open). In terms of actual seating, the Harley is superior here, as the stitches on the Indian's quilted leather saddle start to emboss themselves in your butt cheeks after a few hours. Both V-twins exhibit just enough vibration to give them some character but not enough to make your fingers and toes tingle.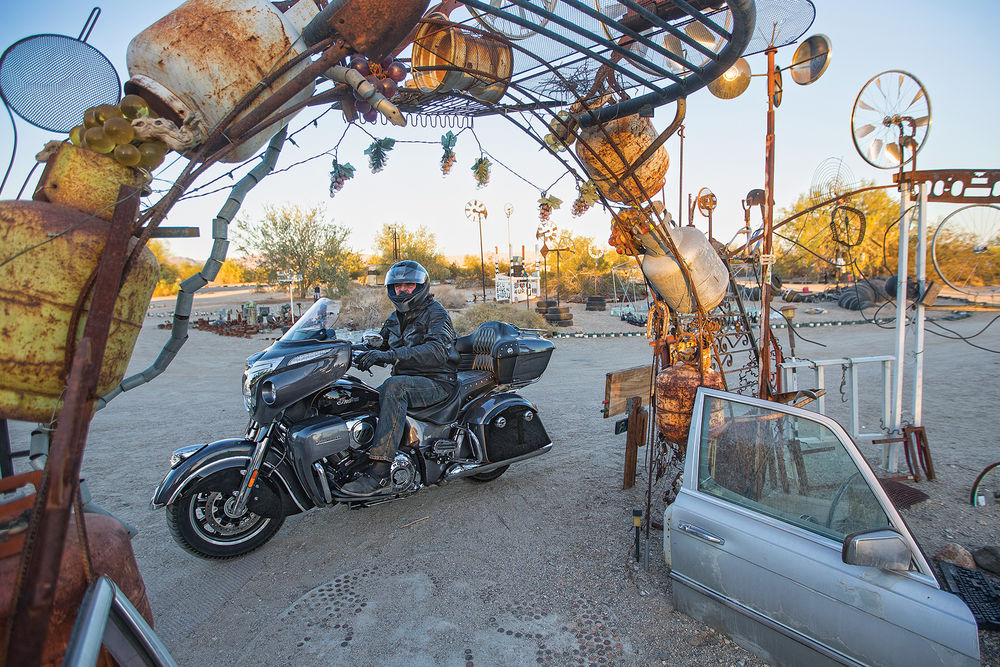 You can't ride to Hell without mentioning heat. The Harley's twin radiators mean you stay cool, while the Indian broils the rider's legs, especially on the right (pipe) side. Harley's engineers moved the rear exhaust port inboard on the new motor, which undoubtedly helped combat heat, but we have to wonder about them reducing idle from 1,000 to 850 rpm. Our testbike never stalled at a standstill, but it sounded like it might because of its spaced-out beats.
The Roadmaster's dash initially seems too "in your face" but in fact is easy to read and to use. The Road Glide's dash is farther away, yet its GPS display proved difficult to read at night. That added distance also makes for a long reach to the touchscreen, though you can accomplish most functions using the thumb-operated joysticks. Both bikes are equipped with powerful audio systems that sound great while tailgating, pretty good below 50 mph, and distorted at freeway speeds. The Indian's antenna is lower and better tucked in than the Harley's, but ours broke nonetheless. FM was lost, but it has Bluetooth and cable connectivity. We preferred the Harley's simple one-button cruise control but have to wonder why after all these years it retains separate turn signal switches, one on each switch pod. Even the so-traditional Germans at BMW ultimately abandoned those!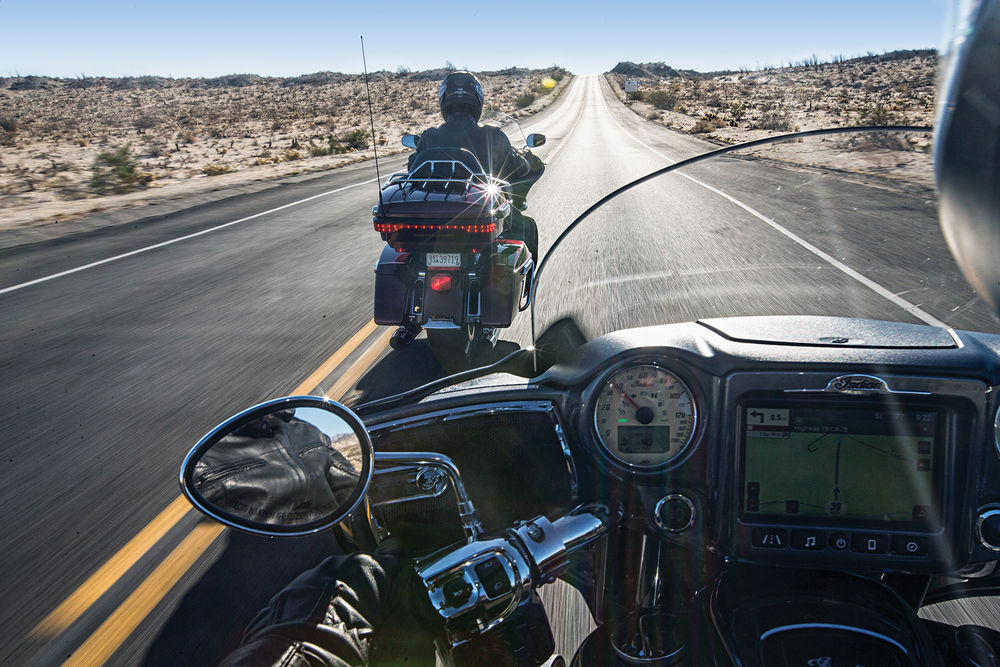 In the end—or The End—these two full-dress touring cruisers are so evenly matched that passing final judgment is an act of faith. If we have to play devil's advocate, we'll point out that the Harley is a bit more modern mechanically while the Indian has it covered electronically. The Road Glide costs less, but the Roadmaster gives you more for your money (down to its electric screen). The Harley is more authentic in that it traces its roots directly back to that very first machine built in that shed in Milwaukee, but the Indian feels like it could have sprung from the original production line in Springfield. The bottom line is you'll be happy—perhaps eternally so—with whichever one you choose.
If your riding buddies don't agree with your decision, tell them to go to Hell!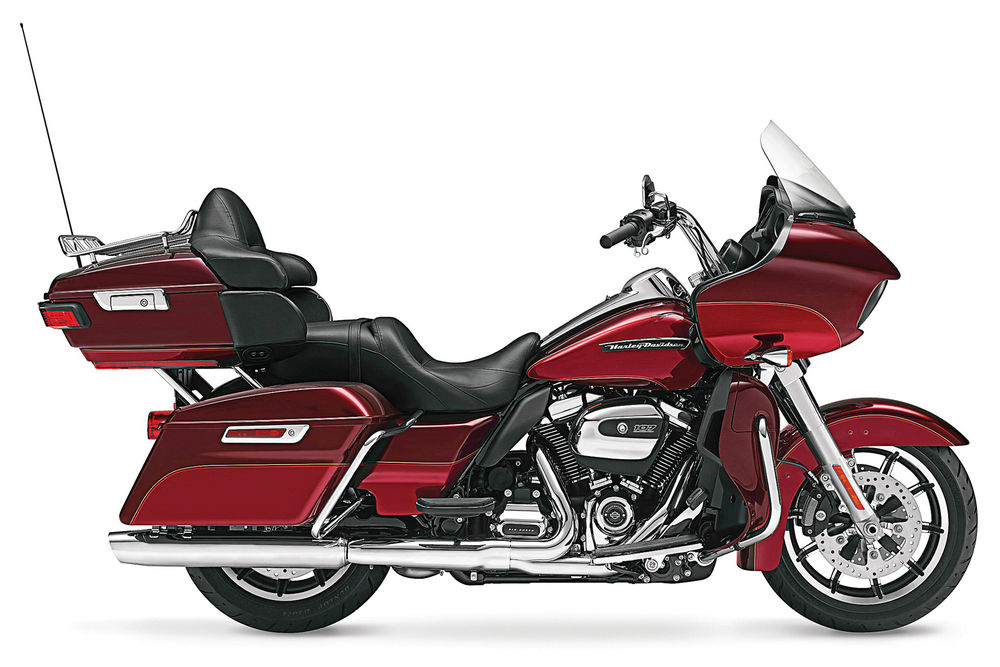 HARLEY-DAVIDSON ROAD GLIDE ULTRA
| THE NUMBERS | |
| --- | --- |
| UPS | +Liquid-cooling, eight valves—are you sure this is a Harley? |
| | +Better cornering clearance |
| | +Improved suspension |
| DOWNS | –Sound system could be louder for freeway riding |
| | –Gear indicator a nuisance |
| | –Adjustable screen viewing angle, please |
| Price | $26,899 |
| Dry weight | 899 lb. |
| Wheelbase | 64.1 in. |
| Seat height | 29.3 in. |
| Fuel mileage | 36.0 mpg |
| 1/4 mile | 13.77 sec. @ 96.14 mph |
| 0–60 mph | 4.9 sec. |
| Top gear 40–60 mph | 5.5 sec. |
| 60–80 mph | 6.4 sec. |
| Horsepower | 76.5 @ 4980 rpm |
| Torque | 97.7 lb.-ft. @ 2840 rpm |
| Braking 30–0 mph | 32 ft. |
| 60–0 mph | 135 ft. |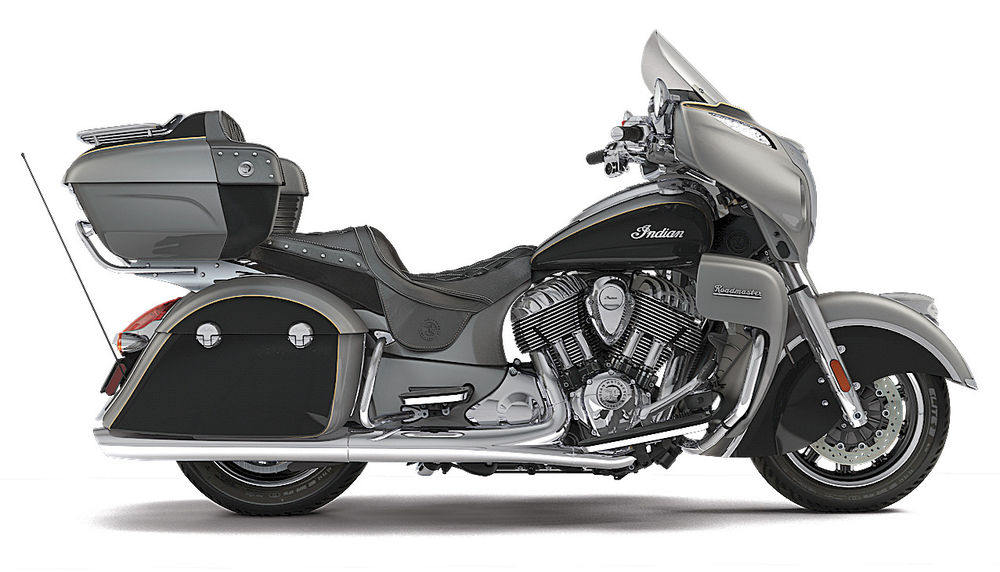 INDIAN ROADMASTER
| THE NUMBERS | |
| --- | --- |
| UPS | Is that an Indian or a 20th century Limited? (Google it.) |
| | Heated seat/handgrips |
| | Torque! |
| DOWNS | Low fuel indicator is frustrating |
| | Saddle leaves grill marks |
| | Hotter than the Harley |
| Price | $30,399 |
| Dry weight | 913 lb. |
| Wheelbase | 66.1 in. |
| Seat height | 28.5 in. |
| Fuel mileage | 35.9 mpg |
| 1/4 mile | 13.91 sec. @ 94.44 mph |
| 0–60 mph | 5.2 sec. |
| Top gear 40–60 mph | 4.9 sec. |
| 60–80 mph | 5.7 sec. |
| Horsepower | 72.4 @ 4440 rpm |
| Torque | 102.7 lb.-ft. @ 2480 rpm |
| Braking 30–0 mph | 31 ft. |
| 60–0 mph | 125 ft. |